Merry Christmas! It's my delight to highlight one of the values precious to our community—being messengers of peace.
"Glory to God in the highest, and on earth peace among those with whom God is pleased!" (Luke 2:14). With these words, the angels sang praises for the birth of Jesus. Our hearts are full of joy as we celebrate the coming of our Lord and Savior, Jesus Christ, and his birth as an adorable baby. He is born to bring light into the world and peace to all.
As we look upon the Christmas tree adorned with lights and precious ornaments, let us remember that Jesus is the true light in our lives. His birth brings hope and joy in a world that sometimes is dark, broken, and in despair. The infant Jesus brings peace to hearts, souls, and communities. He gives us His light and guides us through life's challenges. His presence equips us to overcome darkness. In him, we receive blessings beyond measure.
Jesus' Birth is a Message of Peace
Today, we celebrate Jesus' physical presence. Also, we celebrate His spiritual presence among us. Both celebrations are relevant to us in many ways. The following is one of the prominent.
The message of Jesus' birth is one of peace. It's a call for peace among families, nations, and peoples. It is peace restored to the broken world when Jesus enters the corrupt world and brings order to chaos. What is this peace?
It is the restoration of the brokenness of creation in Christ. In Christ, "all things hold together" (Colossians 1:17). He is our peace (Ephesians 2:14). The restoration begins to be fully fulfilled in history with the birthday of the Lord, which we celebrate at Christmas. The birth blesses creation with peace.
Similarly, it is about peace that penetrates every fabric of existence. For us humans, the Lord's birth endows us with peace within our souls. It is the peace the Blessed Lord speaks of, which the world cannot give (John 14:27). This peace within us inspires us to become messengers of peace wherever we find ourselves. We offer what we have; what we don't have, we can't give. Because we've received peace within us, we can live and proclaim it. The good news is that the Infant Jesus gifts it to us.
Peace Within Us
What is peace within us? The Holy Father, Pope Francis, answers this question during his Sunday Regina Caeli address on May 22, 2022. "This peace is the Holy Spirit, the same Spirit of Jesus. It is the presence of God in us." We receive this peace as a gift. The gift equips us to be messengers of peace to the world. As Christians, we are responsible for spreading this message far and wide. But some might ask, where shall we spread it? I answer everywhere, indeed!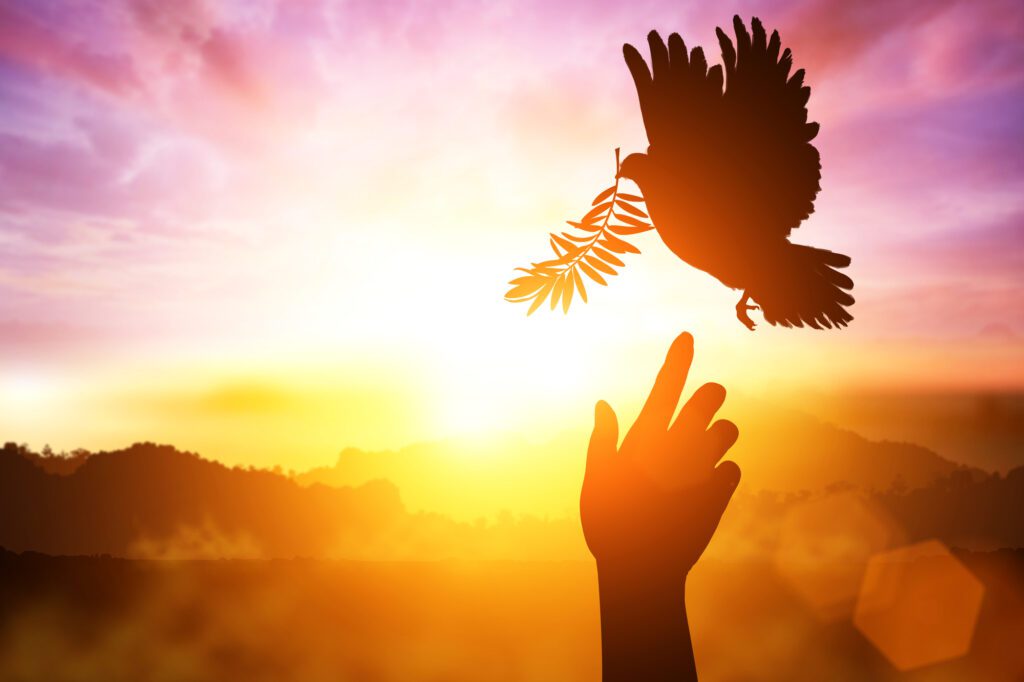 If you still wonder, begin with social media platforms such as Facebook, Twitter, TikTok, YouTube, or Instagram. We counter the algorithms that weaponize divisiveness with the love-centered algorithm of the Spirit. Likewise, we outsmart the vitriols and slurs that suck the life out of our lovely human attention. We make our attention not an end for social technology companies but a means through which we can focus on what binds us, namely love and peace for one another. As Tristan Harris, a former Google ethicist and an advocate for humane tech design, development, and use, said in a 2017 TED talk, we must adopt a more ethical standard in our digital interactions.
We spread this message in the White House as we do so in our living rooms. But, we also live on the streets, encouraging one another to be messengers of peace, earning the title of God's sons and daughters (Matthew 5:9).
Let us commit ourselves to be messengers of peace. Our mission is to sow joy, not depression. It is creating harmony, not chaos; showing love instead of indifference; practicing justice rather than impartiality; speaking truth instead of prejudice or falsehood. We lead so that others may experience God's love through us. We, having welcomed the Infant Jesus in our homes and hearts, become witnesses of his peace everywhere. There are more robust ways to do this. Here are four comprehensive pillars which Saint Pope John XXIII proposes.
Four Pillars of Peace
Our witness to peace is robust if based on Saint Pope John XXIII's four pillars for world peace. They include truth, justice, love, and freedom (Pacem in Terris, 1963).
Practice Truth to Self and Others
We must use the truth to build bridges between individuals from different backgrounds or cultures. We begin by being truthful to ourselves and then to others. As the Holy Father admonishes, embracing our rights and responsibilities toward others is necessary. I believe it will help create an atmosphere where we foster understanding between different perspectives.
In other words, agreeing to disagree in our private, professional, and public interactions is a healthy path to truth. People don't embrace the truth when policed or forced to accept it. Truth thrives by its compelling power. It is found when we accept that differences in thoughts, opinions, and perspectives are a part of the natural order. Through it all, we can find the enduring answer to the question, "what is truth?" Or, to put it differently, unlike the biblical Pontius Pilate (John 18:38), we would recognize the truth that shines right in our faces.
Truth, when found, requires a humble acceptance even if it rocks our world. Therefore, challenging ourselves to overcome our prejudices is necessary. The only way to lasting peace is truth. But the truth isn't always comfortable, hence its power to lead us to a better state than we were when we met it. Before long, we have a head start toward perfection.
Practice Justice for One and All
Additionally, the Holy Father reminds us that to have lasting peace, we must practice justice. Therefore, I take from the pope's message the need to be people who live justly and advocate for justice. Fighting against oppression or unfair treatment, regardless of if it happens within one country or across borders, is essential for achieving lasting peace.
Do unto others what you would love done unto you is a tested and reliable ethical principle. The Blessed Lord makes it more personal. "Whatsoever you do to the least of my brethren, that you do unto me" (Matthew 25:40). We must see "the other" not as a stumbling block to our ambitions but as someone whose rights are as equal as ours. Just like us, they want good things for themselves and their loved ones too. Therefore, our policies, laws, and actions should do unto others as we would love for ourselves.
Furthermore, a deeper reflection is essential before praising ourselves for being generous to the poor. Let it not be that we took what is theirs in the first place and returned a fraction of it to them as charity. We would not rip people off to give them charity. To do so is contrary to justice. This isn't just my opinion; the Church's age-long social teachings back it.
Hence, the justice we learn from the Infant Jesus is the justice of charity. Pope Emeritus Benedict XVI richly discussed its relationship with charity in his 2009 encyclical, Charity in Truth (Caritas in Veritate). We will return to this unique relationship of justice and charity shortly.
Love More
Love is the third of the Holy Father's four pillars of peace. The Holy Father, Saint Pope John XXII, beautifully describes the place of love in peace. He reminds us that people (we) should "be animated by such love as will make them feel the needs of others as their own and induce them to share their goods with others and to strive in the world to make all men alike heirs to the noblest of intellectual and spiritual values" (Pacem in Terris, 35).
That we do not confuse what true love that fosters peace is; Pope Emeritus Benedict XVI's teaching sheds light. In his Caritas in Veritate (2009), he writes: "Charity goes beyond justice because to love is to give, to offer what is "mine" to the other; but it never lacks justice, which prompts us to give the other what is "his," what is due to him by reason of his being or his acting. I cannot "give" what is mine to the other, without first giving him what pertains to him in justice. If we love others with charity, then first of all we are just towards them" (no. 6).
Consequently, if we want to be messengers of Christmas peace, our generosity to others should not be like FTX's founder's philanthropy. Such is a cryptocurrency scam that robs people of their money to give to charity or, like him, virtue signaling to the world that we are the savior of the new order. Instead, the love that promotes enduring peace first meets the demands of justice and then goes beyond its legal requirements. So it is because not only does it fulfill the needs of justice, but it also offers something more—the sacrifice of the peacemaker, which blesses more people than what is required by law.
For me, love must always remain at the center. Loving our neighbor, whether close relatives or strangers from faraway lands, binds humanity together as one family under God's care. God is love (1 John 4:8).
Care for the Poorer
The poor deserve particular care in considering love as a pillar of peace. It is a theme closest to my heart and part of why I responded by grace to the call to found Gratia Vobis Ministries. We love the poorer in a special way this Christmas. Whether they be in our families, communities, networks, and beyond the shores of our country shouldn't matter much. So why do I call them the poorer instead of simply the poor? It allows us to care more for someone else, no matter how much we lack.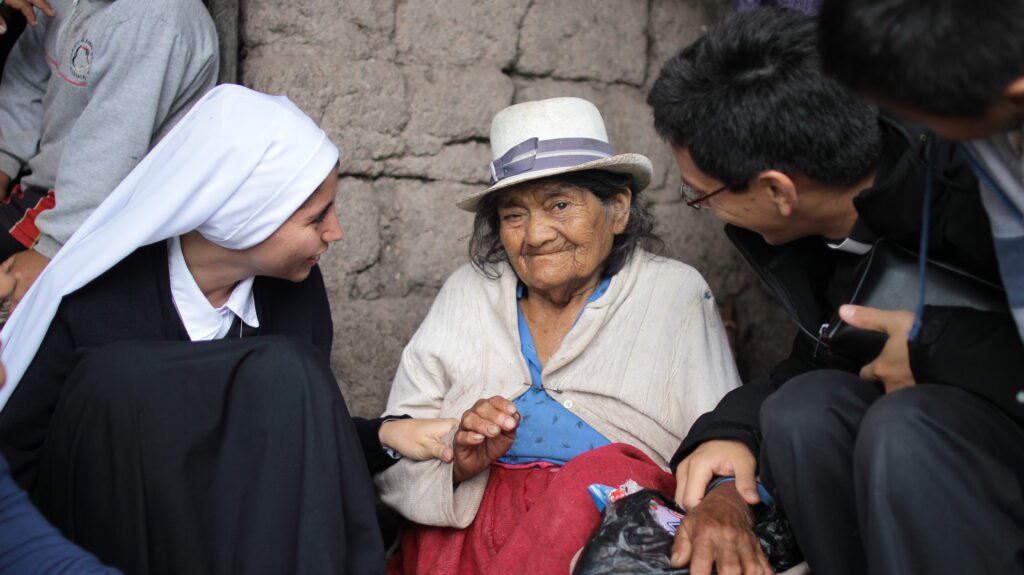 Second, we look beyond ourselves to notice those who aren't as blessed. Most importantly, it inspires us to be more intentional in seeking out the poor among us. In the world of the poorer, there are the poorest. Those deserve special care. We do not wait for them to show up; we reach out and show them we love and care. Our care isn't out of pity or sympathy; it is due to empathy and love.
Why Special Care for the Poor?
Requiring special care for the poor is not because they are poorer, but because they are human. We see ourselves in them, not as an inverse living of our lives vicariously through others or the subtle variations of psychological projection. It isn't also because we want something good for our organization's PR. Instead, it is in humble acknowledgment that they could have been anybody (including ourselves) except for grace and opportunity. Our lovely care is a pure sign of transformed humanity.
The stereotype that the poor are lazy is as ignorant as the view that we choose our parents. Only a few people are poor because of their choices. Many are poor because they didn't and do not have the opportunity we have. And since we do not know with certainty why each is poor, we do not need to judge.
I do not ignore the possibility of people taking advantage of us. It is sometimes real and hurts. However, I would give a helping hand instead of standing by while someone drowns.
I have witnessed shocking poverty levels in my pastoral ministry in different parts of the world for nearly two decades. Many of you might have witnessed the same. However, if you read this, there is a chance that you are richer than many out there. There is the poorest of the poor who do not know how to read, who cannot afford dirty water and leftover food—for whom clean water and healthy food are a dream. Worse are those who do not hope for a slice of bread in the next couple of months. Hoping against all hopes is their daily routine.
Even if—surrounded by lovely friends and family amidst the chants of Christmas carols and stunning Christmas trees and lights—we can't fathom what this looks like, being aware that there are worse situations than simply not receiving our preferred ice cream flavor on Christmas is a good start. Loving and caring for the poor as we would love ourselves is the way of Christ. It is the Christmas finesse.
In conclusion, loving one another is a surer path to lasting peace, for lack of love convulses the cosmic order.
Embrace Freedom and Responsibility
Finally, Saint Pope John XXIII invites us to protect and respect freedom. It concerns our freedom as human beings and our rights and responsibilities flowing from it. Reflecting on Pope John XXIII's four pillars of peace, the Holy Father John Paul II explains. "Freedom will build peace and make it thrive if, in the choice of the means to that end, people act according to reason and assume responsibility for their own actions" (World Day of Peace, January 1, 2003).
For the peace which Christ brings to thrive, our freedom to have something requires the responsibility to have it in a just way. It also requires responsible use of it. We are stewards of the ways and means we live and express our rights. We owe it to ourselves, society, and the Lord to match freedom with responsibility.
A concrete place to practice this today is in speech. In our private, family, and public conversations, embracing the right of everyone to express themselves without being canceled will lead to greater understanding between diverse worldviews. It strengthens family and global bonds. Embracing freedom and responsibility also requires those who are beneficiaries of the Infant Jesus' life to be responsible with every word they utter. The Book of Proverbs declares that "life and death are in the power of the tongue" (18:21). Write and speak graciously.
Final Invitation to Peace
Let us take heart during this festive season knowing that Christ has come into our lives. He brings hope during this winter (or harmattan, for those in Africa) night surrounded by glimmering stars. It ushers summer days full of joyous laughter echoing through every street corner. It reminds us that there is more goodness and beauty left in this world than sorrow and pain.
In the coming year, our Gratia Vobis Ministries will clock ten years of its founding. During the first quarter of 2023, our president will share with you how we wish to celebrate it and your ideas are graciously welcome. In the meantime, we will expand on our unique work of living and sharing Christ's love in communities. We will continue to write and speak in the language of divine love, bringing diverse cultures into spiritual dialogue. Our faith will continue to shine in works of charity for the poorer in our midst. You can help by sharing what we do with your family and friends.
If God blesses you with talents and wealth, reach out to our president Paul Verderber (president@gratiavobisministries.org), for ways to help provide for the poor in remote parts of the world. In addition, we need volunteers to amplify our food for the Body and Soul project.
Let's continue to be agents of grace in our communities. Let's unite in prayer, asking the Infant Jesus to grant us courage, wisdom, strength, and humility so that we may become more effective messengers of His everlasting peace each day! Amen!
Glory to God in the highest and peace on earth. Amen. Merry Christmas!
Our Lady Queen of Peace, pray for us. Amen
Fr. Maurice Emelu
Founder, Gratia Vobis Ministries, Inc.